Blog > Solutions For Fantasy Sports on Daily Fantasy Sports Expo in Miami, March 2016
03/20/2016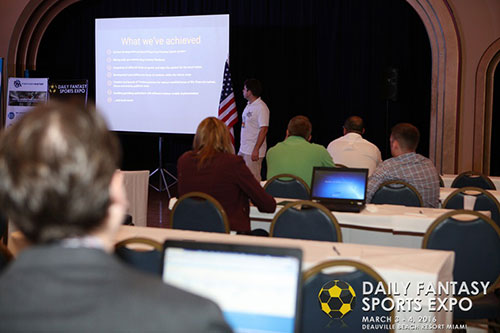 Fantasy Sports Solutions team has attended the Daily Fantasy Sports Expo in Miami on March 3-4. The Exposition & Trade Conference discussed all the aspects of running a daily fantasy sports business.
Our team visited the Expo to present achieves and technical expertise in Fantasy Sports market. Being a part of our Marketing Strategy, we wanted to spread a word about advantages of solutions that we have created and profit of their utilization and using.
Conference itself united people from many Fantasy Sports related Business areas, like Registrators and Attorneys, Marketing teams, Start-uppers and Fantasy systems owners, Data feed providers, Venture funds representatives and many others. Many different countries were presented there - USA, Australia, Germany, UK, Japan, South Korea, Hungary, Latin America and many others - it definetely shows the popularity of Fantasy Sports market over the word.
Such variety of different people gave a great advantage of discussing various trends and market demands that Fantasy Sports meets over the world. And it showed many possibilities to our team in approaches to grow and develop our business
Fantasy Sports industry is rapidly evolving and discovering new markets with devoted sports fans, e.g. South America, Europe and Asia. The only obstacle hindering comprehensive expansion of fantasy sports outside USA is its unregulated legal status. Hope this year we'll see good progress in this direction and millions of new players will join our huge fantasy sports community.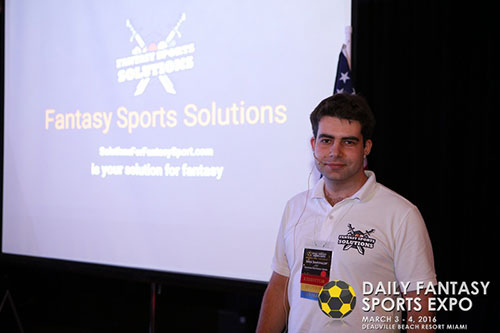 Our team visited the Expo with the boost presenting our company, skills and experience. Our CTO was speaking in Fantasy Sports Software Trends Panel presenting our vision of software and technical trends in Fantasy Sports market, and our team's reactions and achieves in this field.
Our participation allowed us to tell the world about ourselves, meet very interesting people and discuss possible collaboration ways and gain new experience in presentation and exposition software business. We are pretty sure we will go to more Expos and Conferences soon!
Our team offers a great quality of technical support for any kind of Fantasy Sports (and not only Sports) business: starting from creating branded and styled systems and applications and ending on coming with custom solutions and approaches. We are very good software and technical support for your Fantasy business!!